Introducing: A Shiny New Galaxy!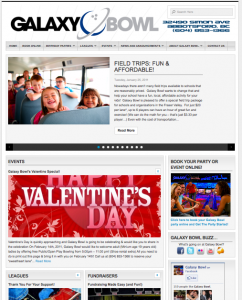 We've been very busy at Galaxy Bowl lately – not just working hard with our league teams, customers and birthday party celebrants, but in-between all of that we've also been working on a brand-new website!
The new GalaxyBowl.ca offers dynamic and interactive features that highlight not only our business, but our connections with our customers and fans.  We've built up a great social media following on Twitter and Facebook and also continue to connect with our fans via our monthly newsletter.
When GalaxyBowl.ca first launched in 2009 one of the first things we implemented was an online ordering system for parties and events.  That system has been a huge success with our customers and we are pleased to continue to offer this service for everyone.
The new GalaxyBowl.ca has many changes and over time we will be improving and implementing new areas and features so that our customers and fans have the latest & greatest from Galaxy Bowl always!
Thank you for your continued support, and if you have any comments or questions, please click here to reach a member of our managment team via our "Contact Us" form.  We'd love to hear from you!
"Galaxy Bowl, It's How We Roll!"